Corvettes On The Gulf sponsored or co-sponsored annual car show information flyers and links to Premium Car Shows on-line registration forms are highlighted on this page. COTG typically hosts three judged car shows each year and co-sponsors the Pelican Preserve Car Show which is also a judged show. Dates and Locations are now confirmed for most all of the 2023 COTG Car Shows which will include:
Click on the show Button below to open the on-line Premium Show Registrations Form and a link to a printable Show Flyer/ Mail-in Registration Form when available.
PREMIUM CAR SHOWS On-Line Registration
We hope you enjoy the 2023 COTG Car Shows and the great winter weather we all enjoy in southwest Florida!
Our January 7th, 2023 "WELCOME NEW YEAR!" Open Car & Truck & MC Show was held at the awesome Bell Tower location in Fort Myers Florida. This show began the 2023 South West Florida Car Show Season with a longstanding Corvettes on the Gulf Club Car Show tradition! We had over 200 Cars attend this year's show, and the weather was awesome! Surely was a show not to miss! The Bell Tower Shops COTG Car Shows has always been a great location for many years!
Our second February 4th, 2023, Car Show of the season was our Corvettes on the Gulf co-sponsored Car Show with Pelican Preserve which was again a crowd pleaser! This was the 12th Annual Pelican Preserve Open Corvette, Car, Truck & M/C Show at the Pelican Preserve development Town Center in Fort Myers. A great location for a car show and we had over 160 great cars in attendance!
UPCOMING COTG CAR SHOWS
Our April 22nd, 2023 Car Show will be the 13th Annual Open Car & Truck & MC Show at Bell Tower. This show was just confirmed and will be a Premium Judged Show and their Show Flyer will be posted shortly. Attending this show will be a great way to finish the Winter Car Show season in southwest Florida! Special enhanced trophies are always a trademark of COTG Car Shows, and this show is no exception!
Our last planned Car Show for 2023 is slated for October 2023 and will be our 23rd Annual "Spooktacular" in October 2023 at Bell Tower Shops. We have tentatively targeted October 14th, 2023 but have not confirmed that date at this time but will post updates when the date is confirmed! Fingers crossed!
COTG Show Trophies Are Always the Best!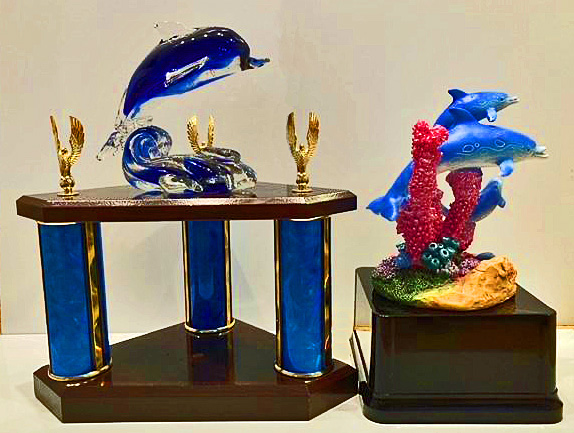 Last Years Spooktacular COTG Show Trophy!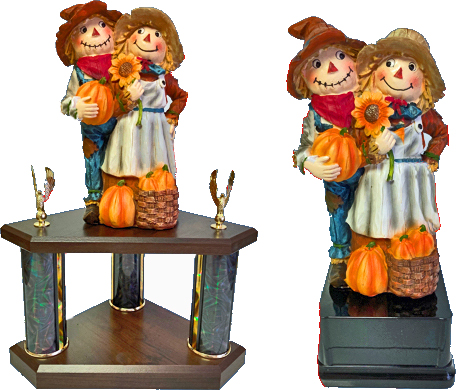 <<13th ANNUAL COTG CORVETTE, & OPEN CAR, TRUCK & MOTORCYCLE SHOW>> OUR THIRD GREAT SHOW OF THE SEASON!!
COTG CALENDAR EVENT PAGE
Click the above Button for Calendar Event page that contains links to the Show Flyer and the On-Line Registration Form.
Print Flyer/ Registration Form
Click the above Button for a direct link to a printable Show Flyer / Mail-in Registration Form
Our third Car Show of 2023 season will be our April 22nd, 2023 13th Annual Open Corvette, Car, Truck & MC at Bell Tower in Fort Myers, Florida. A great Car Show venue located in the Bell Tower Shops main parking lot. This Car Show is always great fun with many cars and car clubs participating! The Bell Tower venue is a perfect location for a Car Show with food, and shopping opportunities for the entire family! Come join the FUN and help Corvettes on the Gulf support local charities.
Our Car Shows Generate Needed Donations for Local Charities!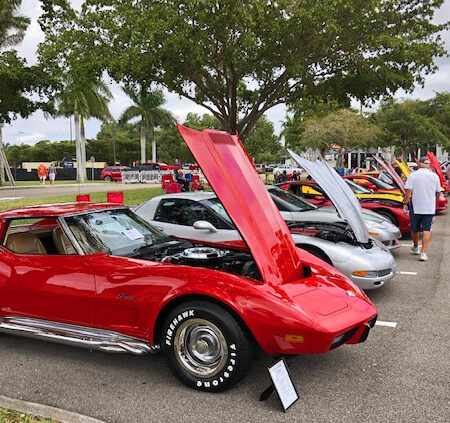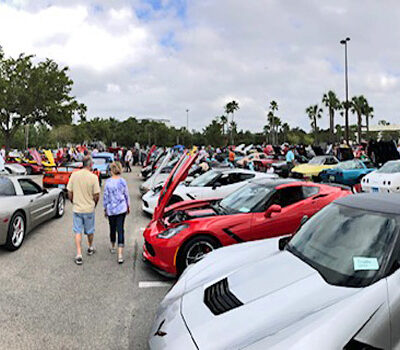 CAR SHOW FLYER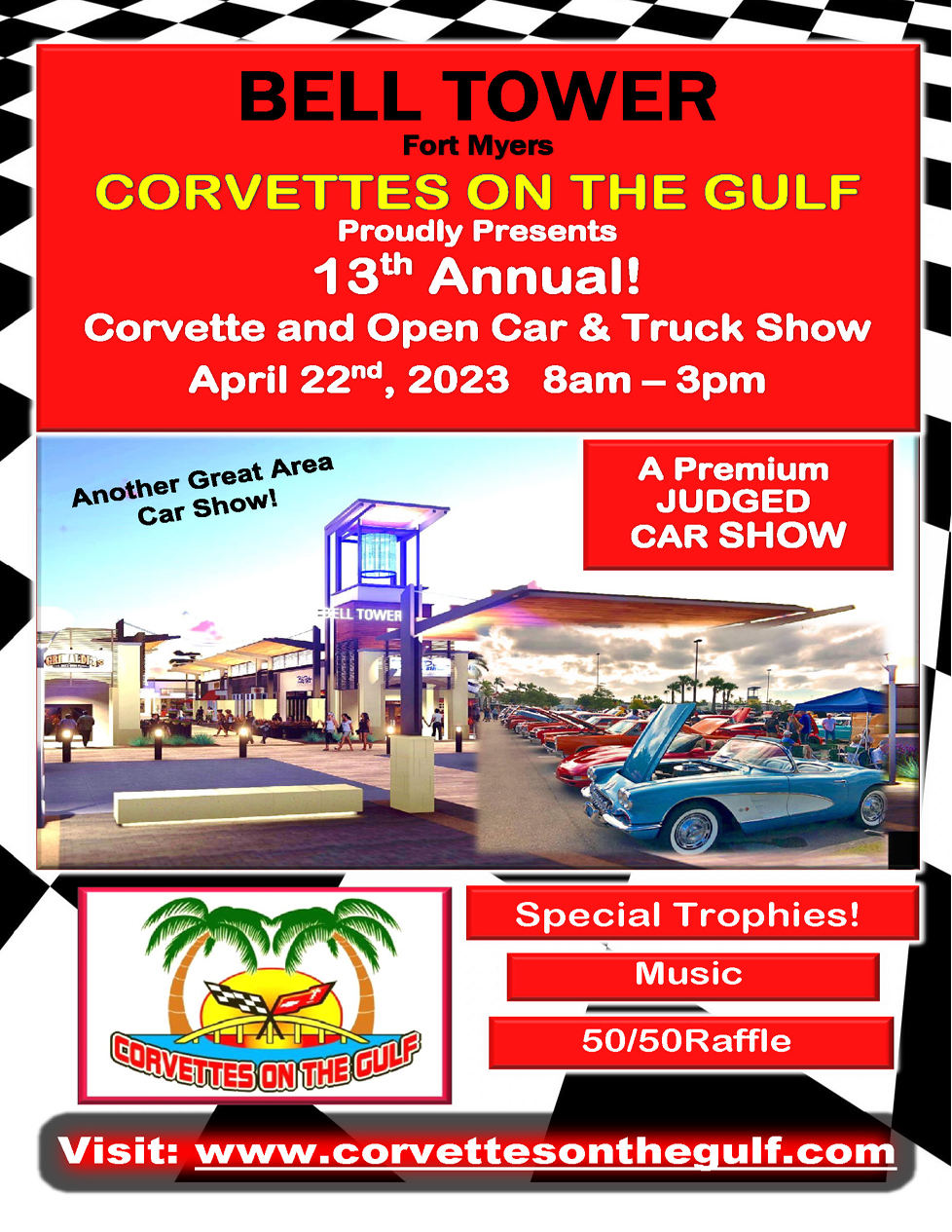 CAR SHOW LOCATION MAP